The following post is an excerpt from the forthcoming book The Cowbell Principle: Career Advice On How To Get Your Dream Job And Make More Money, by Brian Carter and Garrison Wynn. The authors will give away a limited number of digital copies at launch time. To get notified when they're available, sign up here.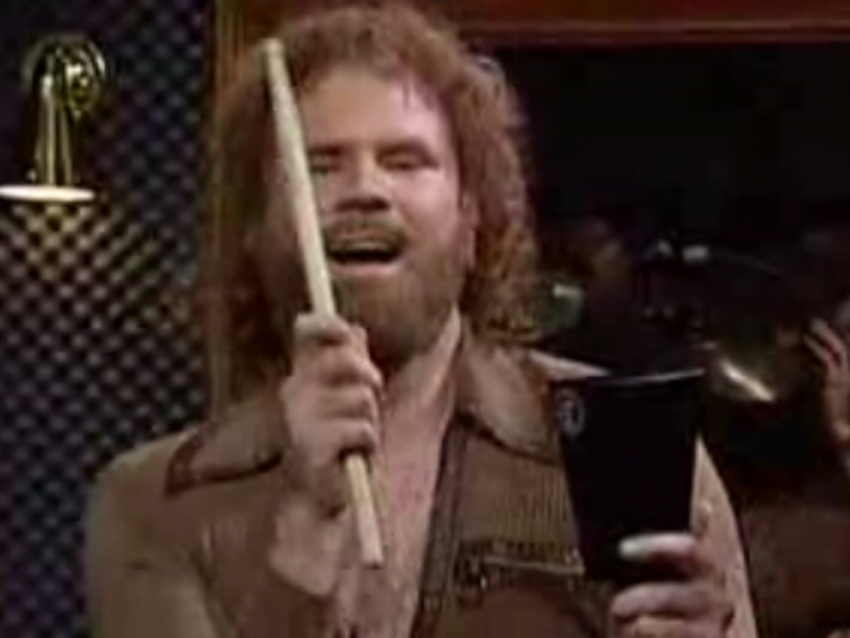 Have you seen the "More Cowbell" sketch from Saturday Night Live? It's more than just funny. Believe it or not, it's a powerful metaphor for a successful work life. And it provides insight into the kind of people you need on your team, and what makes an effective team.
Everyone has at least one cowbell — it's your unique, profitable talent people pay you for or your company's unique offering. It's something people have a fever for. When you
discover it and give those people a ton of it, you gain success and happiness for both yourself and others. It's a win-win.
A cowbell is simultaneously something you love doing and something other people really want as well (although, as we'll see, you still will have detractors and critics). A cowbell creates joy for you and other people. It makes them yell for more. They can't
get enough.
Can Your Cowbell Make You Rich?
Can your cowbell make you rich? In some cases, yes. In the "More Cowbell" sketch, Bruce Dickinson says, "Babies, before we're done here, [the cowbell will have you] wearin' gold-plated diapers." What does that even mean? I'll tell you what it means. If you're really good at something and you apply that in a direction where money exists, you get some of that money. Bruce Dickinson knows what customers want and where that money is. What he directs you to do is going to give you a shot at that success.
Sharon Osbourne is a money-making machine. She organizes Ozzfest with no-name bands and signs them to contracts. Three or four of those bands do well each year, and she gets a percentage. Her approach combines profits and testing: She tests a lot of bands and takes a percentage from them for the opportunity. She promotes them a little (not too much) and
doesn't risk too much. And she was uniquely positioned with the power to do it because she could say, "Ozzy really likes you and we want to sign you." If you're a metal band, Ozzy Osbourne is iconic.
We can glean a cowbell lesson from Ozzy himself, through statements he has made in interviews over the years. About the origins of Black Sabbath, the metal band he fronted, he professes they were an average band with nothing significant about them, other than their idea to play scary rock after seeing the movie Black Sabbath. No one was doing that kind of music at the time. With "good enough" talent, they became novel by playing up a unique brand that no one else had. Heavy metal took off.
So you can have a cowbell and do well; but if you can find some unique differentiator, it potentiates your cowbell. In other words, it makes your cowbell more powerful and next thing you know you're eating bats. And no one who eats bats is not successful. Being a little bit weird usually helps.
In short, you can take a cowbell that's not terribly original and add something else not original, and there you have a creative cowbell. Ozzy also said he changed things up some with the times but never really deviated from the brand.
J.K. Rowling, who as of April 2014 has a net worth of $1 billion, struggled as a single mom who felt like a big failure as she sat down to pen the Harry Potter series. She had already been writing for 19 years and had the idea for Harry three years before, but a miscarriage and divorce left her contemplating suicide. She survived on state benefits while writing the novel. Motivation can come from surprising depths.
Hunger. Drive. Ambition. Passion. Some of it's already in you.
Sometimes it comes from circumstances. Sometimes it's like a switch is
flipped and you can't stand your life anymore and you're finally motivated.